Extra Virgin Olive Oil flavored with Chocolate Cupcakes
Ingredients
¾ cups all-purpose flour
2 cups sugar
¾ cup sifted cocoa powder
1 ½ teaspoons baking powder
1 ½ teaspoons baking soda
1 teaspoon salt
2 eggs
2 teaspoons vanilla
½ CUP CRITIDA EXTRA VIRGIN OLIVE OIL FLAVORED WITH CHOCOLATE
1 cup milk
1 cup boiling water
Chocolate Frosting:
1 ½ cup butter (room temperature)
3 cups powdered sugar
2 cups cocoa powder
6 tablespoons hot coffee or espresso
6 tablespoons milk
2 teaspoons vanilla
Dressing
Preheat the oven to 325 degrees. In a mixer, blend the flour, sugar, cocoa, baking powder, baking soda, and salt. Mix in the eggs, vanilla
AND CRITIDA EXTRA VIRGIN OLIVE OIL FLAVORED WITH CHOCOLATE.
Add the milk and beat to blend. Add the boiling water. Continue to beat at low speed. The batter will be thin. Pour into cupcake cups and bake 20 to 25 minutes Cupcakes are done with toothpick inserted in the center comes out clean. Cool in pan for 10 minutes then remove to wire rack to cool completely. Beat the frosting ingredients together in a mixer until smooth and creamy and spread on the cooled cupcakes.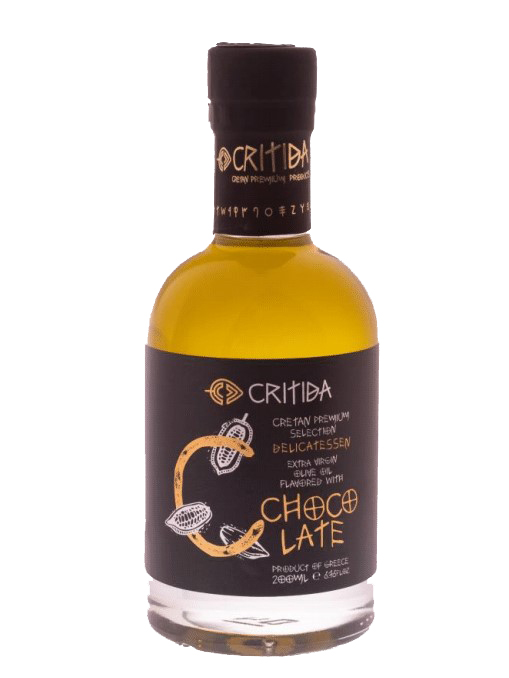 Related posts